But here's a quick video and a picture...chased the last 4 days, had to sit out today or else Devin might have strangled me!
The yelling at the end is an inside joke between Reed and I, it's not how I usually act. We left that storm and flew south to the right mover where we intercepted in Hodgeman county. I was tempted to wait for the next storm to hit that boundary draped on I-70, but thought those storms started to congeal...wrong...it put down several more tornadoes on the storm to our south...along with a huge wedge that almost hit Doug Kiesling. He has some incredible video of it, which I think was shown everywhere.
I have more tornado video, including a distant anti-cyclonic elephant trunk and a big cone I'm gonna try and get up from the day before, along with several spinups from close range near my hometown of Dighton (actually Amy...on the same road (Turkey Red) as my ex girlfriend! HA!)
Video Capture from Thursday south of Wakeeney: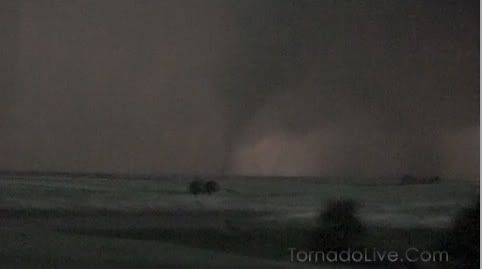 We saw a supercell headed for Greensburg and as we got closer were hearing reports of a violent tornado on the ground and the rotation was nearly on top of Greensburg. I got sick to my stomach and we FLEW there, and were hearing reports that the tornado was in the town...then later on that it "lifted" up before Greensburg. We were all nearly in tears and were saying prayers before hand and were getting there as fast as we could. I have some stills of the supercell that look like a halo from that updraft as it was going over Greensburg...does anyone know the TRUTH about Protection getting "wiped out?" I got a call from Daniel Unruh (the guy we picked up south of Greensburg last year) and he told me that he heard that...but his family was okay. (He lives in New Mexico now).
Anita- I hope you guys are okay...we were heading straight for Femaville when we heard to make sure... and saw that Greensburg was spared. I just couldn't believe what we were seeing....more later.