Saw just about every chaser in North America, this last weekend, including Uncle Chuck south and east of Wakeeney at dusk on Thursday. He leaned his head out the window to look back for some reason, must have smelled the yahoos in the air! I hear the C. Doz has a hell of a nose for them! Met Bill Hark, Jason Persoff, Robert Bahloff on the turkey towerpalooza on Saturday...very nice guys. Sorry I couldn't answer your call Lanny, I was busy kicking myself repeatedly in the nuts. Did everyone grill burgers on the habachi or have a few cold ones in the lawn chair on that storm? Jeesh...
Initiation...towering Cu breaks the cap, east of my hometown Dighton, KSlast Friday May 23rd. Exactly, 1 year and 1 day after we watched another cumulus field south of Dighton tower up and break through!
Ten minutes or so later...it doesn't get much better than this, I love structure!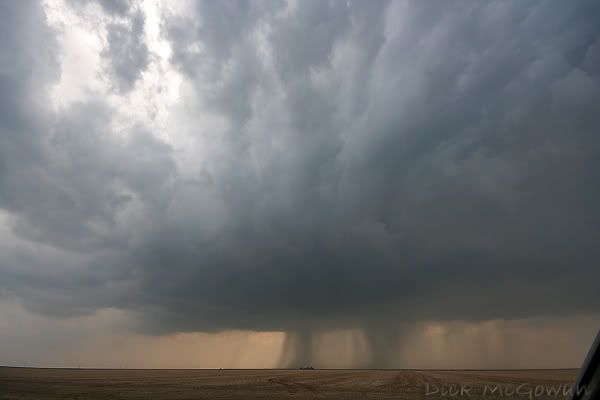 Starting to rotate now, very high-based still, but the structure is breathtaking...I was hoping for a day like this, just like May 22nd last year!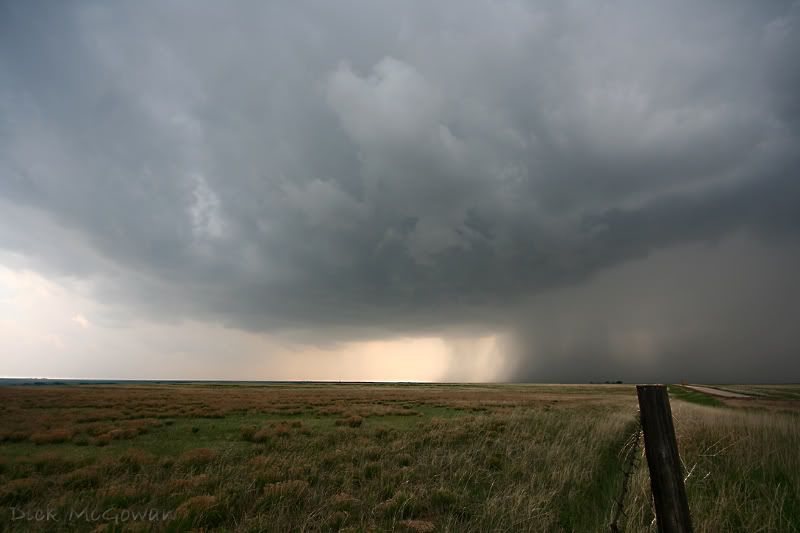 The cell is now about 1/4 mile or less to our west heading N/NE, this tail cloud formed quickly, and the LCL's were now lowering!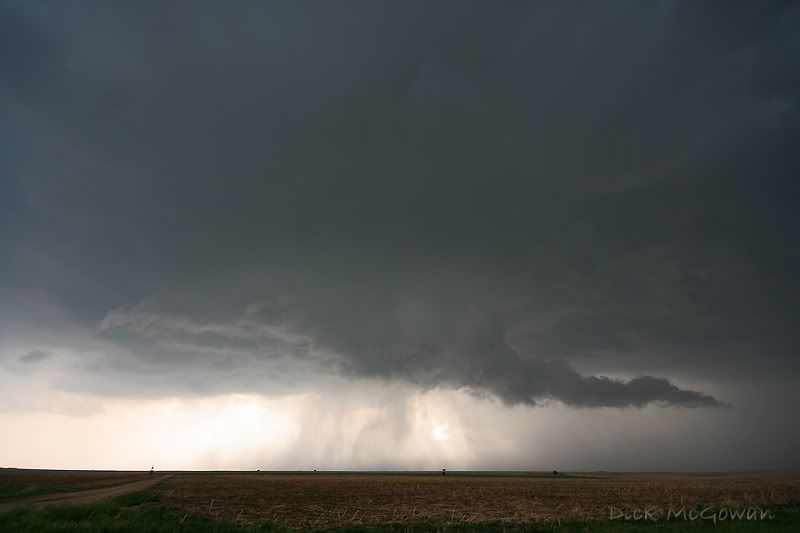 Just a few minutes after that tail cloud, a rotating wall cloud was just to our west, incredible, close rotation we were safely viewing it from. I tried reporting it on spotter network and that stupid google map balloon verification crap came up and my connection was lost on alltel in BFE Lane county.
We watched it cross Highway 4 and went east to get back to the north, and 3 tour vans (which I guess is owned by a textbook goofy, nerdy looking fellow), blocked the sudden line of chaser's only north road option for 4.5 miles (more later!). After resisting the urges of physical violence on them, we caught the storm further north and it would spit out brief funnels, still looking high based.
We keep flanking it when it gets too close, and the roads are getting pretty muddy and the storm is starting to look nasty and HP, scud fingers are literally on the ground, but weren't rotating.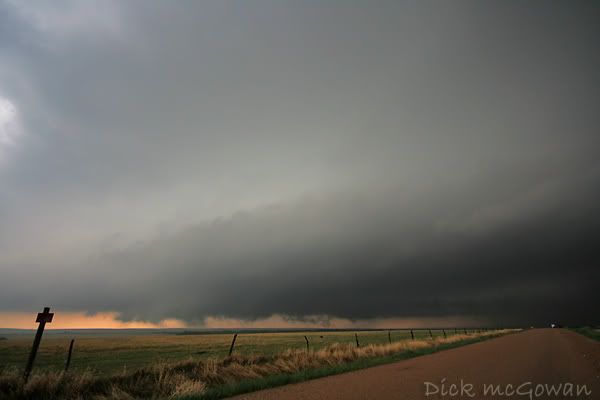 I was tired of driving on those roads and crossed paths with Jeff Piotrowski and Dustin Wilcox and asked them how the roads were he had just came on, and he told me not so good...but we took them anyways. Came across the damage path from the day before in a huge draw in the Smokey Hills that uprooted 100 year old cottonwood trees and damage to a farm, which we couldn't see too well. It's now hazy, foggy and we can't make out much structure to the storm, and now see that a tornado was reported right where we were 2 minutes prior. Figures...we saw no rotation, we leave, it goes nuts. We head north on another award winning gravel road that is allowing me to do about 40 mph before it starts to fishtail, and see Mr. Gene Moore and waive at him as we slide on by to I-70. Gene's a great guy, and a great chaser...down to earth. It turns out our baby smooth road doesn't have an onramp to get onto I 70, so just two more miles to Highway 40 and no more mud. HA! Highway 40 east of Quinter is gravel, so away we go into Quinter, seeing mounds of chasers with a horrible vantage point behind an onramp on I 70, and get on the ramp and I find a spot I think will allow us to view the tornado, if there was one. Rotation was looking incredible, and through the rain curtains to our almost pitch-black south is a cone funnel dancing around and it looks to curl up sideways, and is gone again.
Not a minute later, a huge cone is now visible to our south and is not moving side to side....I'll let the video talk from there.....and write more later as I am hitting the road for the next chaser party, van block-road festival, on some dirt road or highway somewhere on the Plains.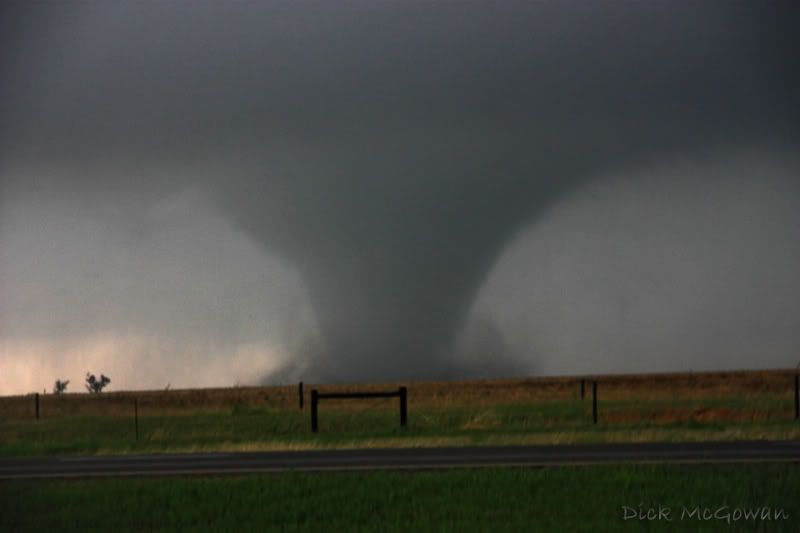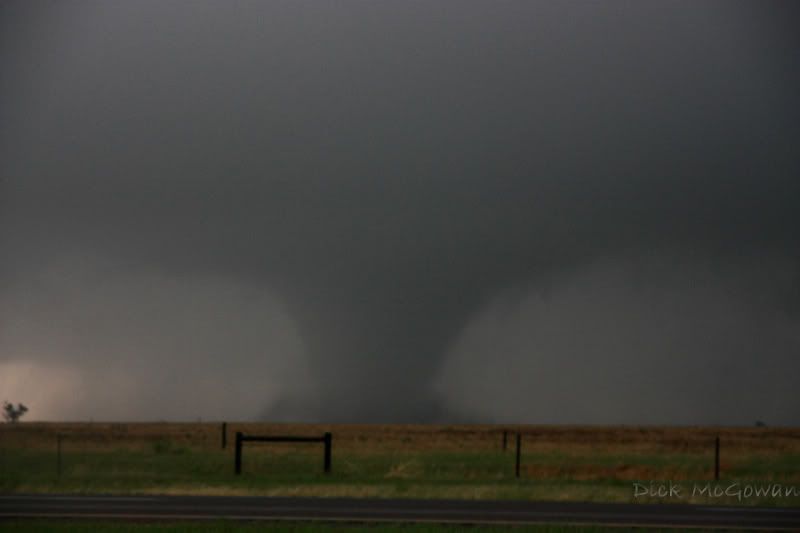 Below is a wall cloud on Sunday, with dead calm surface winds that allowed the outflow to take over shortly after. We saw a landspout 10 miles away and some good structure, before it "Illinois-ed" on us and looked cold, green and shelfy. Well worth it on the structure alone.