I mentioned on Friday night to Eric B'Hymer that SE Kansas was my target and I thought the models were not not forecasting enough instability near and just to southeast of the surface low, with lots of PVA from the vort max just behind it and also better directional shear (didn't end up being that way for directional shear). I laughed when I woke up at around 9 a.m. and saw but a slight risk for hail for much of the target area. I called Darin to see if he wanted to go, he called me back and thought the same thing. By the time I got to Lawrence a tornado watch was just issued (wtf?) and we headed south to pick up Eric in Iola.
Mike Parker, Eric, Darin and I chit-chatted for a bit...Mike opting out for a family barbecue he couldn't get out of. We headed east to Yates Center, filled up, then went south as storms started to fire in Sumner county, KS in good instability but in due west surface winds! We weren't about to attack these storms in due west surface winds and waited for them to hit the better shear/air where we were at. We parked in the EXACT same spot we did on May 1st, south of Neodesha, watching probably one of the most spectacular updrafts I have ever seen...rock solid, towering just to our west in Elk county. Still in the shit air, we headed east on US 400 and I think were on the 59/400 junction where we filmed a lowering here: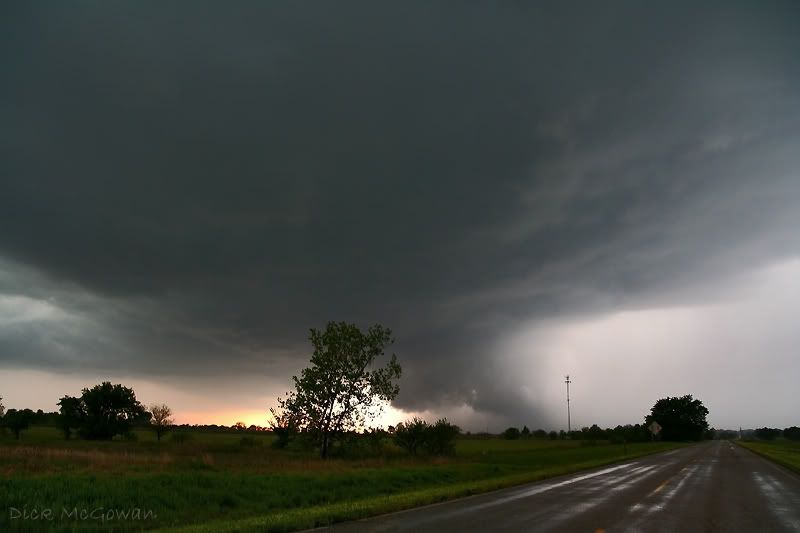 Not tornado-warned yet, and we see nothing but rising motion in the scud, and we floor it east to stay up and ahead of the storm. The NWS calls Darin (not really sure which office) and asks us what we see, and the storm looks very HP and Darin says it's looking kind of outflow-ish. Ben Prusia passes us going the other way (we see Ben everywhere now!) and I almost thought he was ditching this storm for the one coming in from the SW...
We head into Oswego and are getting hit with a lot of rain, and we notice a HUGE RFD cut to our north and quickly get east of town where a cone funnel is now visible in the rain. We're all looking back as Doug, Jordan, and Mike are following us as well, and note scud being pulled in hard and a small debris cloud visible just to our NW. Darin hands me the camera as I look for a road to pull off of, and film just as it lifts back up, and within the next 5 minutes, completely occludes to the south which I thought was very strange.
In the meantime, no more than 20 miles to our south, there is a violent wedge on the ground, in which this supercell develops out of nowhere, and engulfs our storm. I have no doubt our supercell was minutes away from doing the same thing by the way it looked, if it hadn't have been for this one.
So now we are playing the "punch the core from hell" game from the north while this supercell to our south is doing 50 mp to the E/ESE...here's a GR3 capture. Thanks to Dean Baron on Stormtrack for it:
We are the green icon with the arrow pointed down just east of Columbus:
Long story short, we hydroplane at least 3 times, encounter golfball-size hail and see lots of baseballs along the interstate, and finally go south on US 71 where we encounter probably EF-1 damage north of Neosho with major powerlines down. Just to the east of it, we see probably one of the most amazing rotating wall clouds and possible tornadic circulation underneath it (as this meso is still causing damage but from our vantage point we can't see the ground). We debate for about 5 minutes whether the lines were hot or not and we let someone else drive over them before we did. We head east on some county road where we see more damage and people outside. We yell and ask if they need help and they say they're okay, so we continue navigating through the damage path noting huge trees uprooted and some houses with minor damage.
More later...I'm running out of time with 2 finals today. My target for tomorrow is Cherokee county, KS again in extreme SE KS.