Some strong wording from EAX just a bit ago:
KSC107-121-021800-
/O.CON.KEAX.SV.W.0105.000000T0000Z-080602T1800Z/
MIAMI KS-LINN KS-
1237 PM CDT MON JUN 2 2008

...A SEVERE THUNDERSTORM WARNING REMAINS IN EFFECT FOR NORTHWESTERN
LINN AND MIAMI COUNTIES IN EAST CENTRAL KANSAS UNTIL 100 PM CDT...

AT 1235 PM CDT...A LINE OF SEVERE THUNDERSTORMS WERE REPORTED...
PRODUCING GOLF BALL SIZE HAIL...AND DESTRUCTIVE HURRICANE FORCE
WINDS IN EXCESS OF 80 MPH. ACTIVATION OF LOCAL WARNING SYSTEMS IS
RECOMMENDED. THESE STORMS WERE LOCATED ALONG A LINE EXTENDING FROM 7
MILES SOUTH OF EDGERTON TO OSAWATOMIE TO 6 MILES SOUTHWEST OF
OSAWATOMIE...MOVING SOUTHEAST AT 35 MPH.

SEVERE THUNDERSTORMS WILL BE NEAR...
FONTANA BY 1245 PM CDT.
PAOLA AND PARKER BY 1250 PM CDT.
It looks like there is also a moderate risk of severe weather as well. Softball sized hail was reported near Manhattan and Waverly, with baseballs everywhere else along the way. My poor dog, Roxie is afraid of the thunder, and cries when it rattles the house, but she's usually okay when I am with her. :(
Some GR Level 2 analyst shots, Reflectivity, velocity, and then hail detect at 1744z (12:44 p.m.) I love the new high resolution radar...!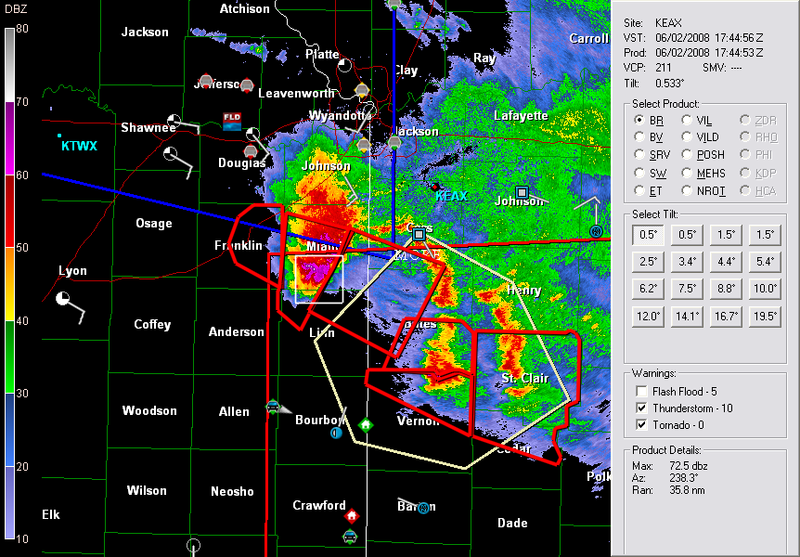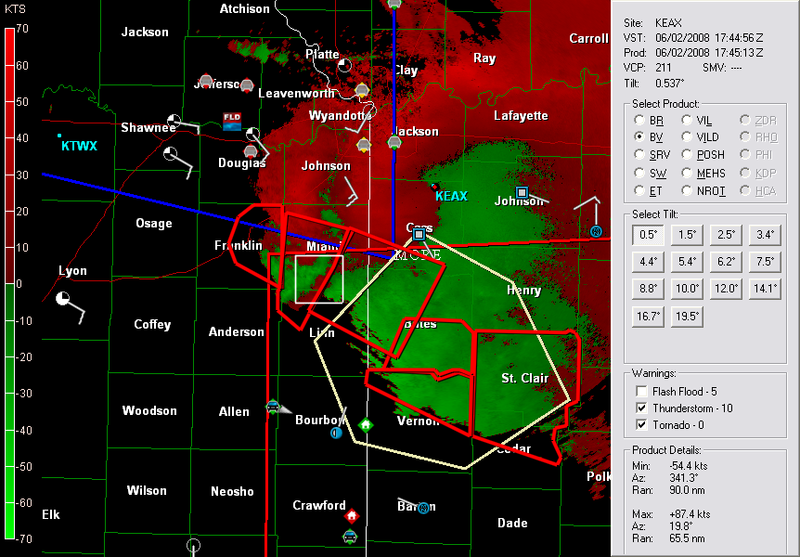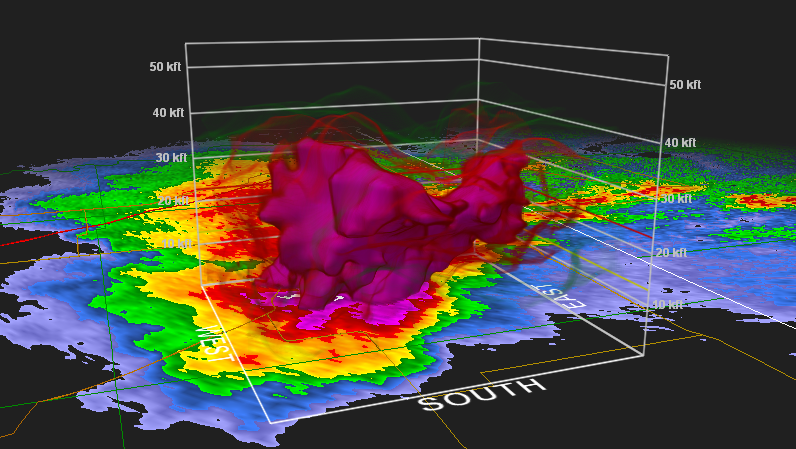 I'm getting ready to chase the next several days and am going to get this damn video edited SOON from the 22nd, and 23rd.