Darin and I were talking about how when you get on a storm now, you can tell right off the bat whether or not it's going to produce, and this one just didn't seem to have it. Some shitty photos I took as we are approaching a tornado-warned storm in Chase county, near Cottonwood Falls (while driving). I'm not sure why the white balance is jacked as it is, maybe through the tint...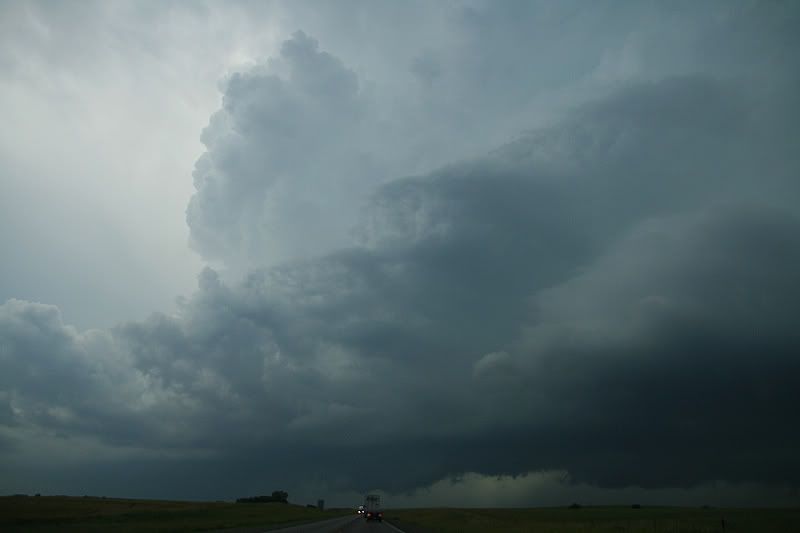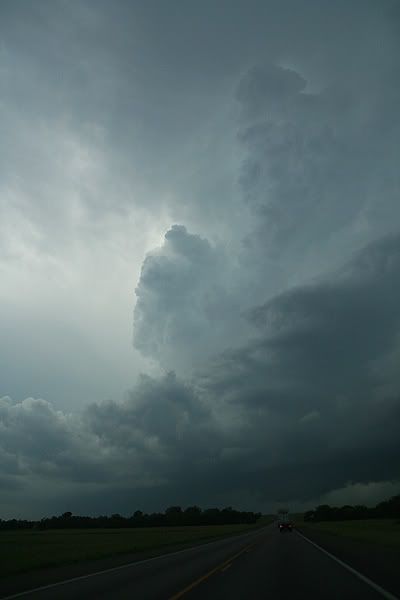 Rotating pretty good (below) here. Darin, his girlfriend Lexy and I were alone at this point, as I pulled up at the top of this farmer's road, which was a big pasture. It was the perfect viewing area spot and we were all enjoying the scenery, then look behind us and realize there are loads of vehicles behind us, including the UMASS phased array/dual pole or whatever project they are doing now...Hi guys!
Haven't seen you guys since all day yesterday! (the day prior, we had found a nice road construction hill near Concordia and out of nowhere they and others pulled up behind us too) It's weird how you'll see the same chasers several days in a row and never see any others.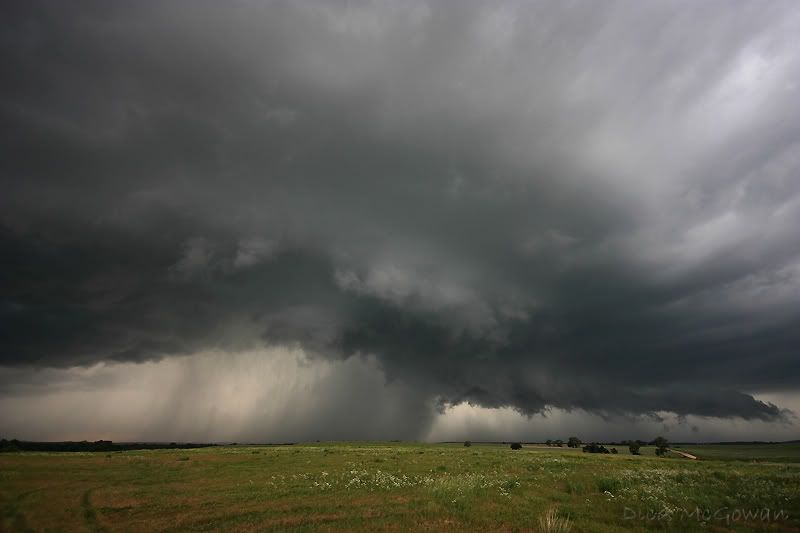 Saw
Andy Fischer
nearby, so I know we're on the right storm! We saw Andy around a lot in 2006, and he was bagging tubes left and right, while others never saw a tornado. I'll never let 9/21/06 go, Andy was all over the Russell cold-core tornado...meanwhile it's our first day with radar (wxworx piece of shit unit, my friend's is still sitting here in my room since that day!)
ever
and we blow it on the storm to its west.
Funny to think about how Darin and I never had any data chasing until 2007 (one day in 2006), weather radios, a paper map, and occasionally a quick wifi (if we could find a damn wifi spot)check on radar or SPC's mesoanalysis less than 2 years ago, now I bitch about a GR3 radar scan not updating.
Some lightning pictures I've taken over the last week, if the Canon Rebel Xsi is better than its predecessors, it's the live view shooting lightning: big LCD screen and quick manual focusing to infinity without having to lean over. Piece of cake.
I'm behind in emails, returning phone calls, etc...I'm not avoiding anyone, (if you are reading this) I have been busy and am awaiting some
big
(non-chasing) news I've recently learned about last night and am very excited!!!
Neal Rasmussen-style spark pics: