It's been awhile and I'm very lazy when it comes to writing. Tuesday, June 3rd, Derek Shaffer and I watched a storm develop and move very slow to the east taking pictures of the towering cumulus clouds and jumped on it right before it briefly went tornado-warned NE of KC. Some views from the back side, took us about 4 minutes to catch up and we tried to get east of it, but didn't make it in time, when the wet RFD
came crashing down. Most of these shots are at 10-17 mm, so in reality, are approximately 5x closer than they appear.
About 30 minutes after initiation, a more promising updraft is towering with a flanking line, looking east: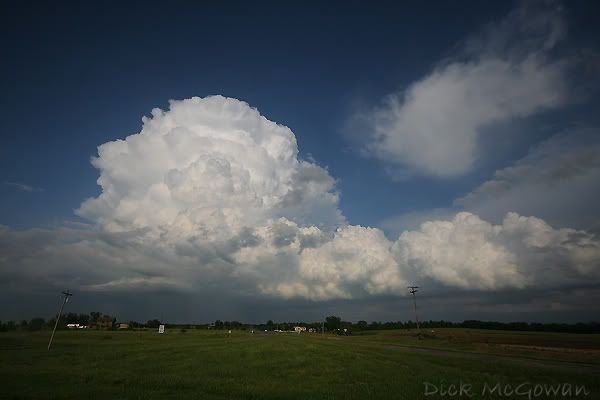 Right as it was tornado-warned, interesting feature/lowering looking to the east/northeast: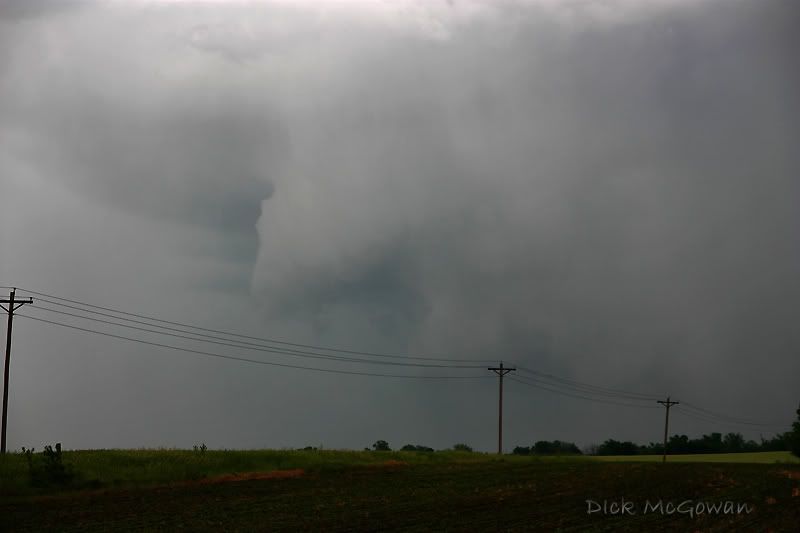 Contrast is still low as we continue east with the precip in the way, but what appears to be a clear slot developing on a wall cloud that had weak rotation:
Added a lot of contrast and it gives it a green color, it wasn't as clear as this when we saw it:
A little further east we went towards it and the contrast is getting better: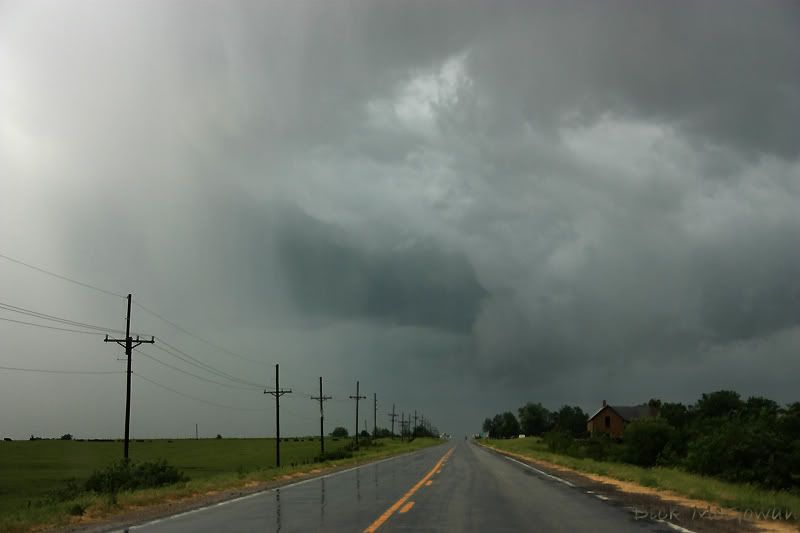 We then get almost around it, as it's now just to our east, and a wet RFD just blasts us, as the wall cloud is now rotating pretty decent, before precip wraps around forcing us to drop south a mile.
Last look at it, as cold outflow is killing it and it's gone in the next 10 minutes. The crack at the top is from a nice baseball that came out of nowhere on May 23rd after the Quinter tornado while trying to turn around on I-70. No hail before or 2 minutes after this...the one and only stone within miles, hits my windshield aimed right at my head, and shatters it...
We drop further south to a blessed paved E/W county road, find a great spot and watch it. I took this while driving with the 17-70...
Then about 2 miles east on the 10-20, white balance/color is different between the two, either from the different lighting later on, or the XT vs. XSI AWB at that point in time.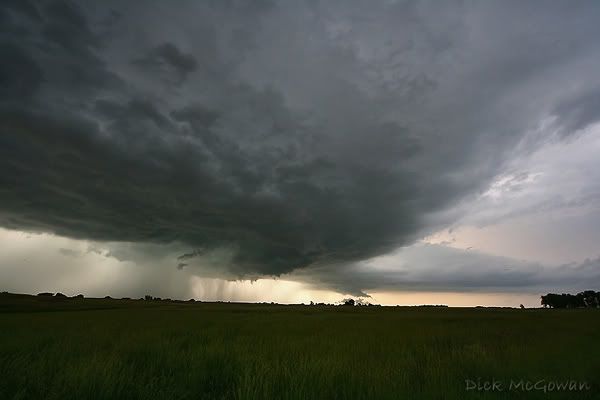 Some guy pulls up and parks right in the road in front of the video we're streaming and starts talking up a storm, I tried to tell him to get his car out of the road, but I guess he didn't care. It was bugging me that he wouldn't and the fact he kept talking to Derek while I'm trying to enjoy the structure of the storm. I don't drive a car or SUV decorated with stickers, mesonets, or antennas for a reason... so people won't bother us while chasing. But they obviously see us outside of the vehicle with cameras and feel the need to start yapping and explaining to us what is happening with the storm lol. I try to be nice and courteous, and you just can't say, "Hey can you shut up and get the fuck out of here?", so I'll just tell the others I'm with, we need to move.
This guy asks if he can follow us, so Derek tells him, "Sure." Damnit! I tried to lose him on a hill (no offense if you're reading this BTW) but it doesn't work, and we finally find a good hill with a view of the storm we can't completely see all of, especially the area of interest. I don't chase to be social, in fact, on a slow-moving storm such as this, I like to just relax and watch it. We pull up and I see a guy standing in the field, and look behind us realizing we are next to an Amish family's farm!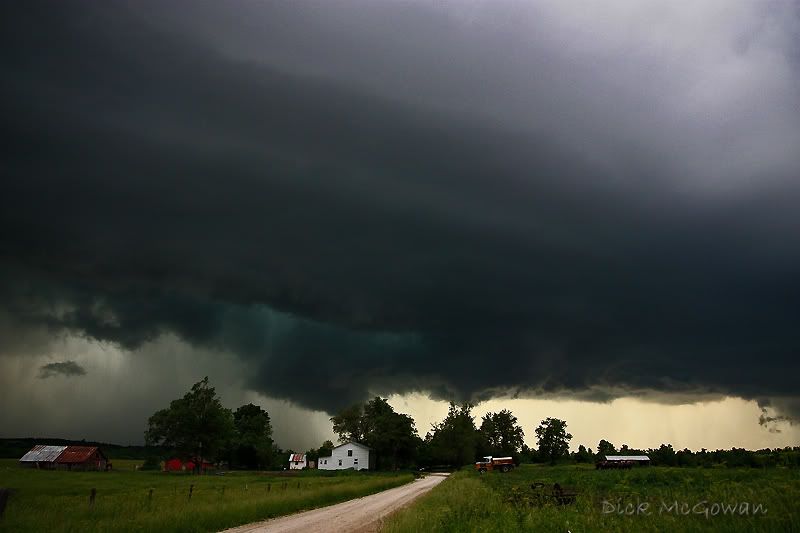 From a thread I started on Stormtrack:
Derek Shaffer and I were chasing last week not too far northeast of Kansas City, and spoke to an Amish family while viewing the storm. I tried to snap a few pictures of them viewing the storm when they weren't looking, and for a few minutes, it really felt like a trip back into time. I wonder what they thought back then, what each storm would do? Very few, if any, would have been able to view enough storms in their lives to understand the behavior of storms/supercells, nor distinguish cyclic, tornado-producing machines from a powerful, multi-teared shelf cloud. Just thought I'd share a few pictures of the very old-fashioned Amish children viewing the storm.
Some pics, I cloned the truck out in the last photo ;) :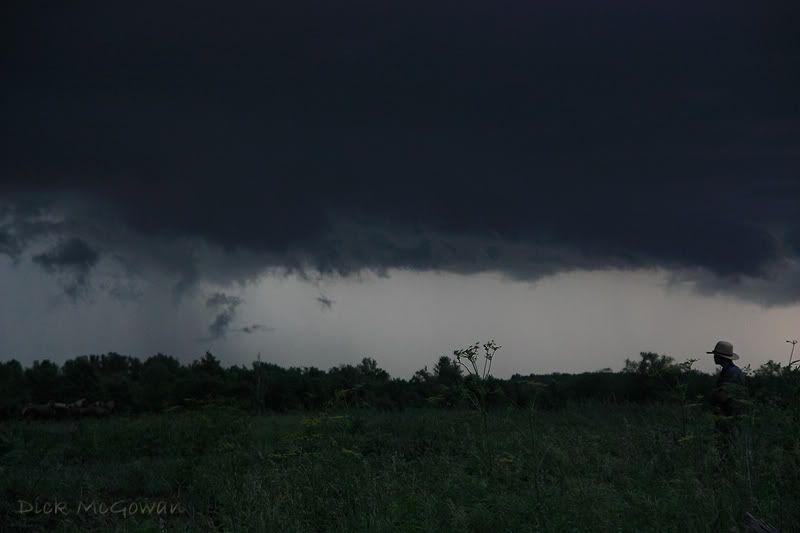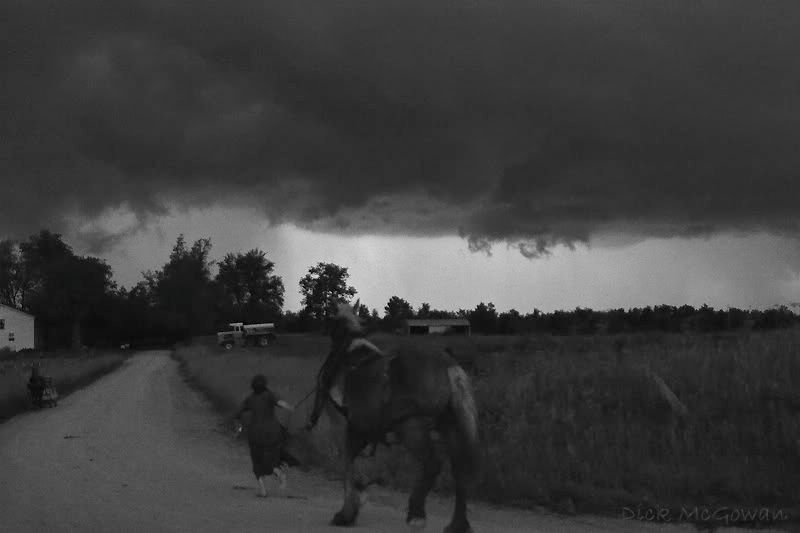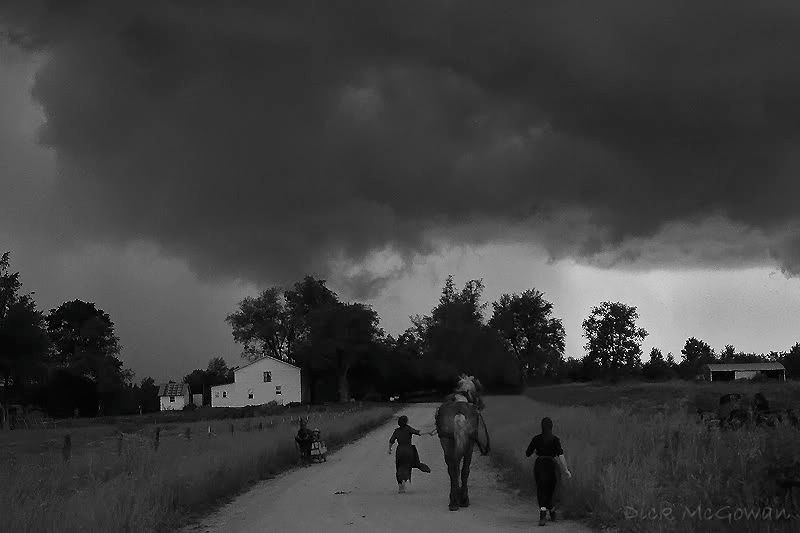 I sometimes think about this while driving, especially when I'm somewhere in Western Kansas, or those summer storms we sometimes chase within 150 miles in July. When it's crowded out there in May, cars whizzing by, it never really does. But when there is no civilization for miles, as an isolated supercell that is striated upwards like a barber pole spinning through the
Gypsum Hills
in Barber County, KS...or when that ominous shelf cloud striated like a wedding cake makes its way over the crest of the
Flint Hills
you can't help but think about what they thought or what fears they had.
We showed them radar which they had never seen before, and watched the children's eyes light up with curiosity, but never said a word. We had to leave as the storm was approaching and wanted to stay out of the core and told them goodbye.
The day was pretty much over at that point as the sun was going down, but we decided to shoot lightning till 2 a.m., mostly on top of a parking garage in downtown K.C. 12 stories up, as storms trained just to the south, but enough mist/rain to get on our lenses and ruin the shot I wanted! We left there and noticed a huge fire to our north, which ended up being from lightning that sparked a huge gas tank which contained 1.2 million dollars. We videotaped it across the river for a few minutes, never saw anyone around and didn't think much of it till the next day when it made national news lol.
Every chase, it seems I always see something different or interesting; whether it's a cap bust or wedgefest, there's always a memory awaiting me when I head out, which makes this hobby that much more enjoyable.