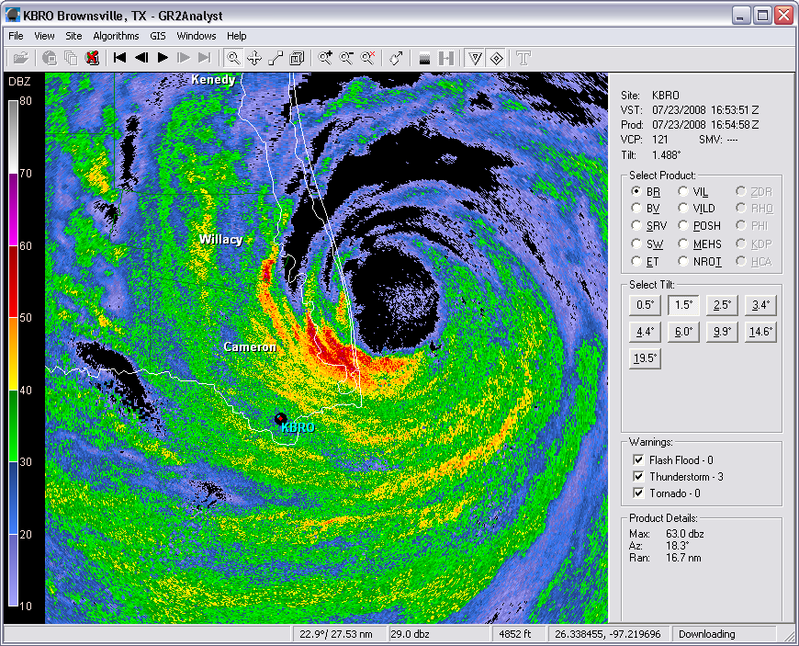 Hurricane Dolly made landfall this afternoon, with the eye very close to my uncle's house in Arroyo City, TX. He still had power at around 11 a.m., but my grandfather who lives a few miles NW of Rancho Viejo, TX did not as of 5 a.m. There was also a tornado less than a mile from his house...per SPC:
0414 3 NW RANCHO VIEJO CAMERON TX 2607 9759 ROPE TORNADO REPORTED BY SPOTTERS NEAR HIGHWAY 100 AND 77. (BRO)
He lives JUST to the south of that intersection!
I archived level II data and could never find even a shower around that time, so the report must have been off. It looks like major flooding is going to be a burden to the usually dry Rio Grande Valley.
Darin and I went chasing on Monday, and tried to jump on the first storm that went up west of Highland, KS early in the day, but my stupid serpentine belt broke and we were stranded in major HEAT for 2 hours. Thankfully, a kind farmer stopped, went home, got some tools and rigged the belt up to get us on our way. BTW HUGE thanks to whomever you were, you went out of your way to help us. He went home and got some tools, then came back. That's why I love Kansas and out of the city, generous people are everywhere. If this were in the city, we probably would have been hit by someone. Another reason why I miss Western Kansas. Darin got his address, so we'll hopefully be able to offer him something for his generosity.
Meanwhile, storms are firing in NC MO westward, and nearly chase us...we caught a dusk supercell with impressive beavertail and lowering underneath a rain-free base just north of Wathena, KS. Anvil seeded it and another storm we were on, so we shot lightning for a bit...
Near Troy, KS: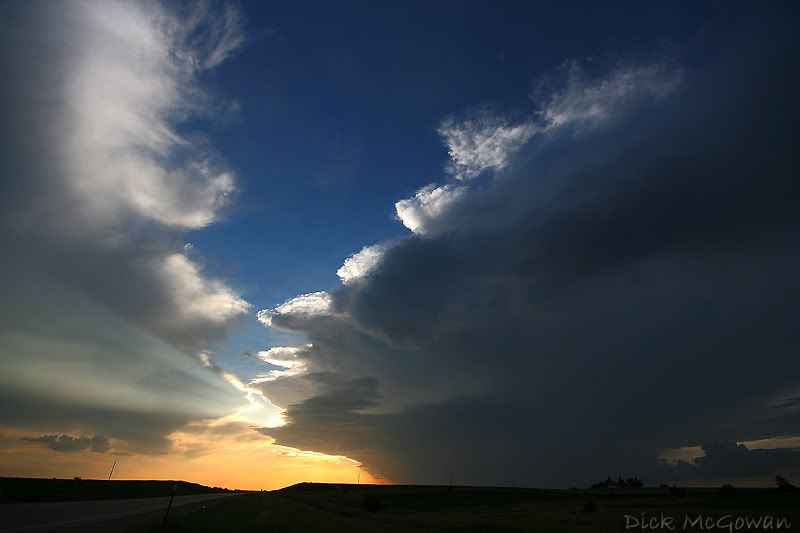 Then some lightning shots along with mammatus visible at night thanks to the city lights!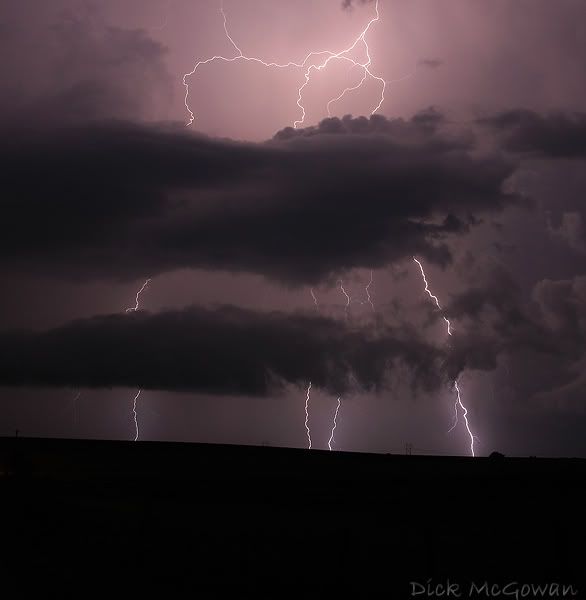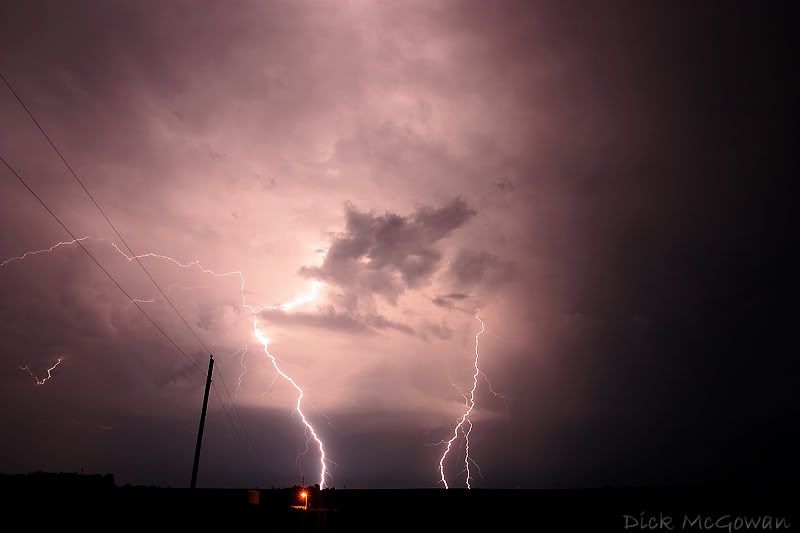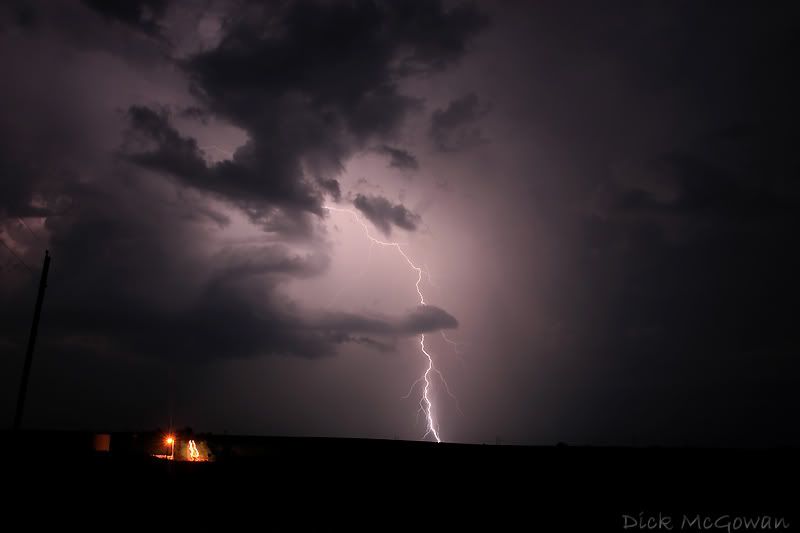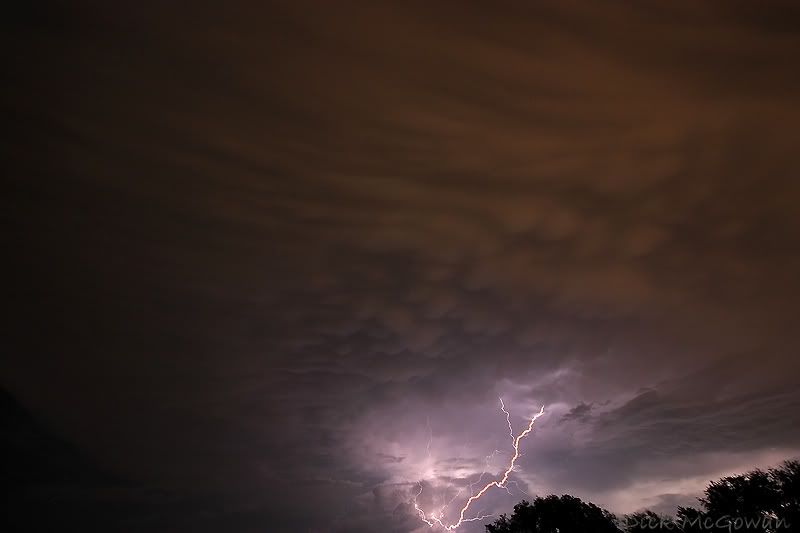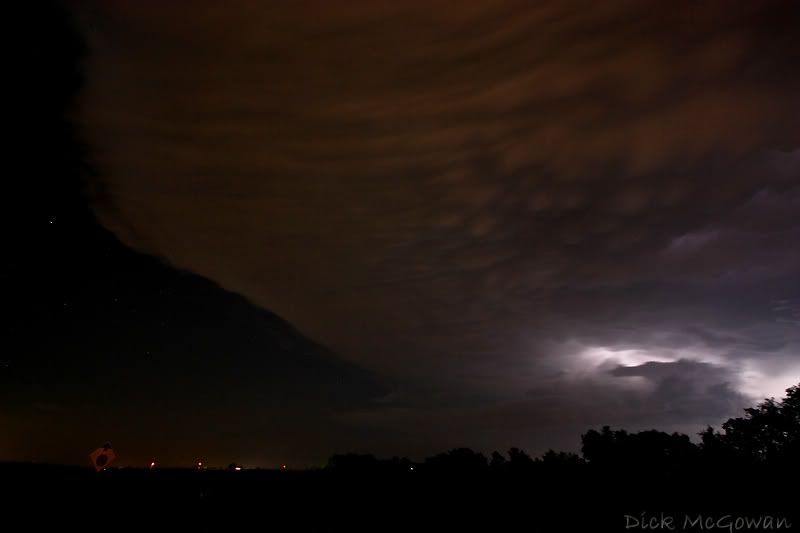 Then, as I headed to Lawrence yesterday to see Devin...I noticed a storm in Osage county and some towers flanking into it from the northwest...and a stunning scene of a shelf cloud that rolled over Clinton Lake.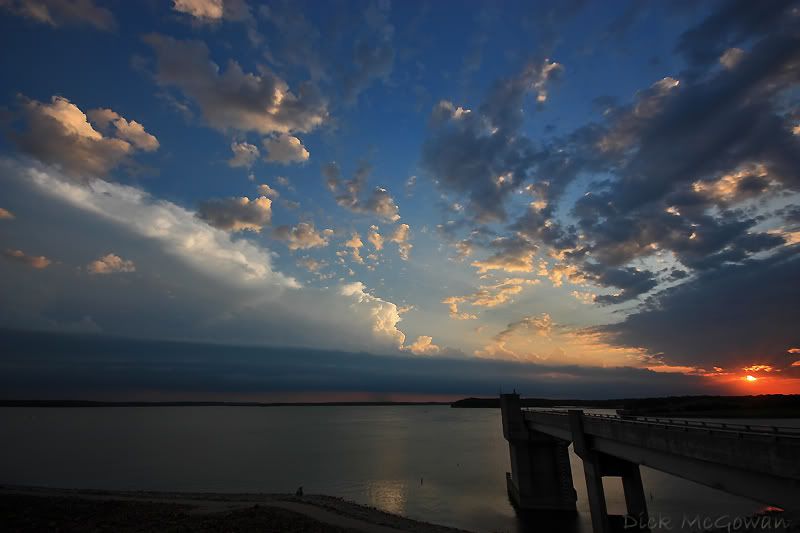 I also went out on the day I posted the previous entry, but an MCV loaded with a cloud deck prevented low level lapse rates from exceeding 7 c/km...but of course I chased it, which yielded an interesting storm with what I thought had strong rotation for nearly 2 hours, but failed to produce...it was pulling scud literally off the ground. Worst structure ever and rain-wrapped to hell along with major fog....which ended up salvaging my chase. Insane fog, that would get pulled up off the ground and brought up to about 1000 feet before turning into a towering cumulus cloud...behind these storms. I think I took about 4 gigs worth of pics, but few meeting my standards or could really capture the tough scene with a very high-dynamic range.
More tomorrow...