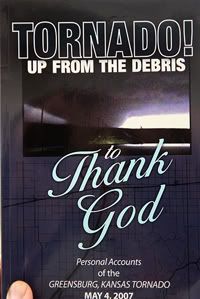 After getting several requests for the book (Including People Magazine) and numerous google searches, I followed up with Daniel, Eric and Fern on how people can purchase this book.
Feel free to use any of this information or the picture for the book on your websites/blogs.
From the book:
An EF-5 tornado plundered through the farming community of Greensburg, Kansas on May 4th, 2007; stripping it bare of homes, businesses, huge trees, and entire farmsteads. In its wake, only a pile of debris was left as evidence of what was once a peaceful existence. Miraculously, only twelve people lost their lives.

As they pulled themselves up from the debris, it was with great thankfulness from God who spared their lives. This book is the account of what happened that day, and in the days following. It is their 'thank-you' to all those 'ministering angels' who helped them in so many ways to dig out of the debris.
They are
around $8.00
and all of the profits go to the Christian Disaster Relief...which is really cheap and will help a lot of Mennonite families that were affected by the tornado. Several storm chasers and meteorologists contributed to this book with their images and accounts (including fellow KC area storm chaser/meteorologist
Andy Fischer
, whose photo is on the cover).
157 pages, paperback.
Eric and Fern Unruh
Mennonite Press Inc.
To purchase one please email:
gospelpublishers(At)cogicm(DOT)org