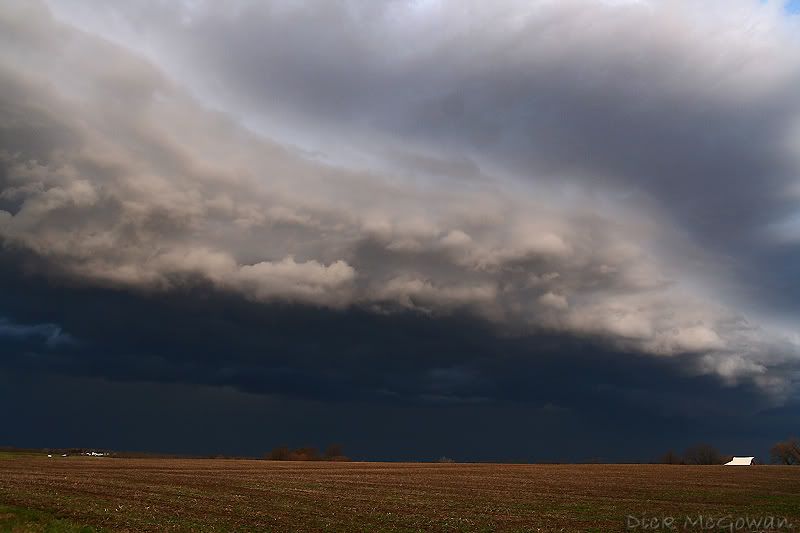 On Thursday, we chased some crappy storms that would disintegrate into nothing when it seemed as though they were moving into more stable air...but then they would almost instantly pulsate right back up just a few scans later. We should have turned around when we were watching storms fire in the dreaded SW surface flow...and the mushy, elongated towers that would go up. I guess the surface low occluded too fast? or dry air surged too far in, like on 2/24/07? We weren't monitoring anything other than surface obs and occasionally seeing if any 0-3 km CAPE was present, which is really all you need for cold-core chasing (or busting) anyways. This is the type of high-based, Outflow-dominant garbage we saw yesterday...I took this one while driving that's why it's blurred on the bottom left.
The live feed went well, with pretty much a solid connection throughout, we just need to get a minidv camera instead of our 20 dollar webcam lol. It wasn't handling the high dynamic ranges well, with blown out skies on occasion, and plus you can't zoom in. Reed and his crew are working hard right now on some excellent additions to the beta version, which is up right now. Darin is also writing some code which will add some neat stuff onto it too. It's pretty nuts to think just a few years ago, the satellite feed which displayed the program, Threatnet (or Wxworx, Baron's,) was like having gold, and now it seems everyone is selling them, since data coverage has become faster, affordable and more reliable.
While SevereStudios has a great concept going with their live video, there is an easier (and free!) way of doing so. Even though I don't agree with some of the stuff they do or say, I am still glad they helped create something very useful which could help coordinate warnings more accurately for NWS offices, media outlets, etc this spring.
So if you are wanting to stream video, can't afford Severe Studios' monthly fees, but wanted to embed the media player onto your site without touching your bandwidth and is entirely free....Simply go to
StreamWebtown.com
and sign up for the free account...then follow the tutorial. That's what I did back in January and it was simple enough to set up. You can then go
here
for the code to embed it onto your blog/website. One of SS's "reasons" they said chasers should stream with them, was because with places like StreamWebtown, chasers forfeit the rights to their "streams" since these places provide a free service. While that may be true, I'm not so sure anyone would or ever could do anything with the low-quality stream that is being put out now. Heck, you can have mine, just send me a copy! Maybe in a few years when chasers are streaming in HD, but nothing to worry about now.
Also, a good tip for windows media encoder 9, (which I'm glad we do not have to use any longer!) ...is to run the stream per kb a little under the speed you anticipate getting. If you're pulling 135K, then select the 144K option. So... if you're on the option for multiple bitrate for a T1 yet only have a 144k connection, it will constantly disconnect and throw out errors. I had several problems staying connected with the Windows media 9 version no matter what I did to it, but this new encoder we have is so simple, you just plug in the camera and hit broadcast. It stays connected unless of course our data drops its connection. No dropped frames, or weird errors, once I configured it correctly, it hasn't given us any problems.
I pre-ordered the Canon EOS Digital Rebel XSi a month or so ago, and it arrived 2 weeks earlier than expected! All I have to say is WOW! It's a big upgrade from the XT, which I've had for almost 3 years now. The LCD screen is literally 4 of my XT's screens placed side by side. I'm just now playing around with it, but will post about it I'm sure in the near future.
Some pictures from Thursday's chase: