I was pretty excited on Friday, when I learned about a GIS program at a community college in the metro here, and I should be getting my certificate by the fall of 2008, and transferring to KU this summer. This is great news, because I can begin interning in my field by this summer. I had no idea this existed, but am ecstatic it does and that I found it. Everything transfers and the head of the program seemed very dedicated and knowledgeable. If KU wouldn't refuse so many of my credit hours, I'd be there right now, but unfortunately I have about 12 hours of my 67 that will not transfer.
I spent years fucking off and am slowly making progress, not selling myself short any longer. Like Tim Robbins said to Morgan Freeman in his letter in the movie Shawshank Redemption (my all time favorite movie, by the way), "...And if you've come this far, maybe you're willing to come a little further." I'm headed to Zihuatenejo. One of my most prized possessions is an autographed, framed script of that movie.
Anyways, I have also remodeled this blog, so it's easier to navigate through 153 entries since 2005. I listed categories for stuff to make it a little simpler. A lot of hits I get these days, are from camera stuff, Greensburg stuff, and a surprising hit for my "Asian massage parlor" entry. I get around 100 hits a week from people looking for cheap sex. Google it, it's on the first page! I also get a lot of hits for Greensburg tornado images, which for some reason, Eric Nguyen's June 10 2004 photo comes up, I need to fix that somehow.
Here is a photo from my solo chase from an amazing shelf cloud in August I forgot about. If I would have had a tripod, things would have been much better/easier.
This last photo is from a storm just south of the KC metro last Monday during the unforeseen outbreak near Springfield Missouri. I nailed that target, mentioning on a friend's myspace, "There will be an EF-3 near Springfield MO on Monday at around 6:45 p.m. CDT. Count on it." If only the models would have showed me that the night before, instead of two nights before. I couldn't justify going even that far in January. Congrats to Lanny Dean and Randy Hicks, who were within 250 yards of a stovepipe.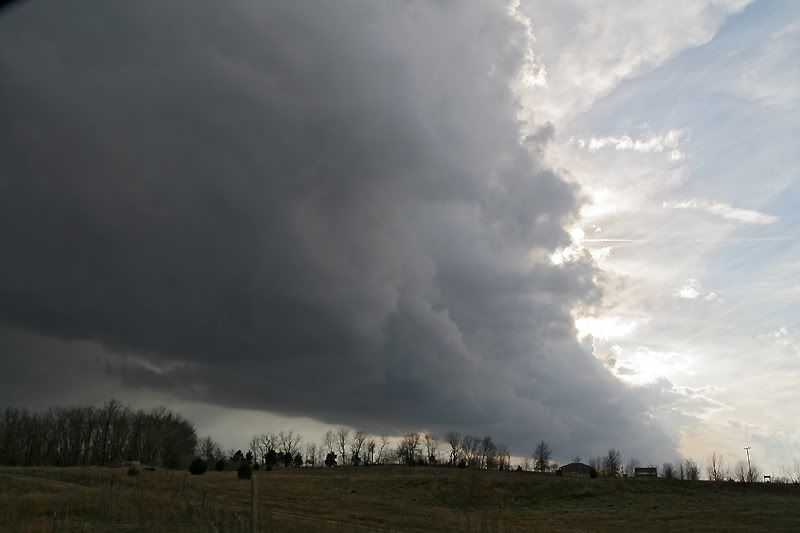 It's in the early stages, but I have been making contacts with Pratt officials on hosting an event for the Greensburg residents about weather safety, and a thorough breakdown of May 4th, 2007 for those who are interested.
Mike Umscheid
,
Greg Stumpf
and
Mickey Ptak
will be speaking there, and hopefully some others. This should be highly advertised in the weeks to come, and open to the public. We'll also be showing and selling the
Storms of 2007 DVD's
and all of the money raised (which will be 100 percent of the profits) will be donated directly back to Greensburg. More on this hopefully soon and contact me if you wish to volunteer!!
Sorry if I haven't responded to your emails in the past week or so, I hope to do so this weekend.