I've edited this post on 12/8/2008 due to the recent high number of hits from an unknown email source...with copyrighted/watermarked images.
Darin Brunin, Jordan Wrecke, Todd Beal and I witnessed the best structure I have ever seen! We trailed a Cu field near Amy, KS to Healy, KS where it began to tower. For the next several hours (more like 5), we watched it mature into a supercell, then die out to the one further south, which would produce the brief, perfectly-contrasted tornado!
No returns on radar and it already had an anvil!
We're alone on this storm at this point.........but not for long. Thing is really high-based, but I don't care. Structure is just as good as a tornado.
Darin took these screen caps showing our position.........then the bees swarmed the lone cell!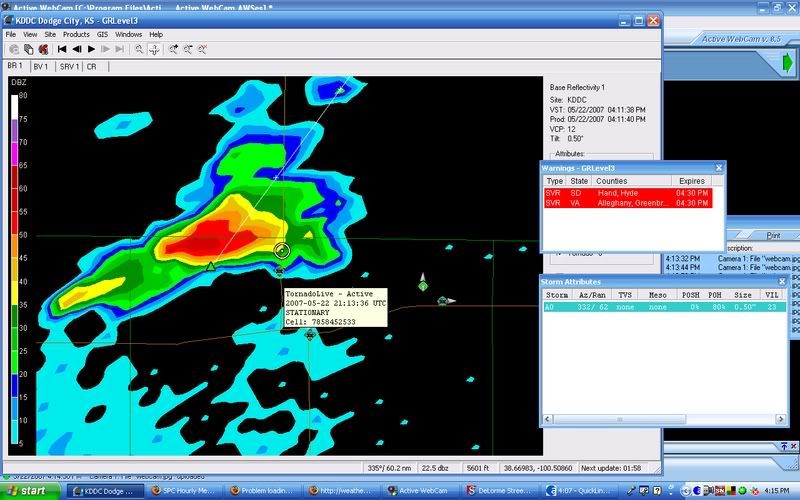 It's now moving N/NE and the meso on it now is just breathtaking. Notice the new supercell forming to it's s/sw. It would eventually die off.
A few minutes later....
After watching it pull in scud as it crossed I-70 (and someone calling in the funnel that wasn't attached to the base!), we sat NE of Colyier (sp?) and filmed it some more, as a wall cloud was now forming. Andrew Pritchard and Mark Sefried pull up, and we chat for a bit, before they leave and head north. Mike Hollingshead pulls up about 1/4 mile back south down the road. We had just talked about how this was a "Hollingshead" type of storm. We leave, and go north, with known chasers pulling out in front of me (jackasses) not once, not twice, but on THREE different occasions. What are the odds? Not only that, but their convoy didn't chance it, and rode my ass while they did 10 mph on a dirt road hanging their heads out of the sunroof!
So I pass them, when they hit the brakes for the 10th time, and now a funnel cloud is starting to come down. It came very close, but I don't think that it ever touched. We followed it up the road a few miles, before the new supercell to the south's FF killed our meso, so we went back south, getting hailed on pretty good as we did. A beautiful mothership is now in view, and very, very close to us. I am looking straight up, and can see this monster rotating. The vault is just to our w/nw, so we snap a few pics and head back east.
This is why I wake up every day:
I couldn't even fit it all in at 10 mm! We should have moved back east, but there was nowhere to park really (We were on dirt roads 90 percent of the day). Darin got a call from the NWS at this point, and we told them no signs of a tornado yet, but it was definitely rotating!
So we move back east, then north, and we can't beat the precip so we head back south, then east. It's now filling in pretty well, and we lose the area of interest for a bit, then get a glimpse of it before it gets wrapped again. So we decide to get way east, as that would be the only view. We can see a rapidly rotating wall cloud, so I pull over and it tries to do it......
But it doesn't. So we jump in and head east again (man these roads were perfect with no mud, and good traction.) as it starts to funnel more. I'm being extremely cautious with driving, as I know the chaser police lurks out there. We reported it on Spotter network as a funnel 3/4 down. It then touched for a couple of minutes, about 2-3 miles to our north, before roping out.
Here's a quick video clip (That's Darin talking in the beginning, giving me a quick lesson in driving. I say "Oh no!" at the end, because a firefighter was blocking the road!)
We finally hit a highway, which was jam-packed full of chasers. We see a new meso, and it's pulling in scud pretty hard. Everyone in front of me is now pulling over to the side, because it starts to rotate pretty hard now. We get about 1/8 mile to the west of it, as a little funnel comes and goes. We've lost it now, because we couldn't park anywhere, and kept heading north. Punched through the core as we are now east out of Hill City. A plethora of idiots are now passing me (I'm doing 70 in a 65), while core-punching in zero visibility. We get to a new tornado warned storm, but it looks OFD and cold, so we ditch it and head back towards Hays to get gas. It's now night time and a cell to our west went tornado warned. We take pics and video it for a good 30 minutes, watching the incredible lightning show. Then head east and film it some more. It's now a gigantic shelf, with some GREAT structure. We're pretty tired, so we headed back to Lawrence. Almost the perfect chase day!
More pics and video coming soon.